Thursday, July 5th, 2018
The 8th Annual Indy Folk Fest will be held on Saturday, August 18th at Indy Hostel located at 4903 Winthrop Avenue in Meridian-Kessler. This is a family-friend festival is free for children under eight years of age and will feature international, regional and local acts from 11:00 a.m. to 11 p.m. Proceeds from this year's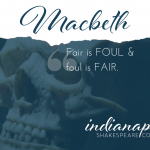 Tuesday, May 29th, 2018
Indianapolis Shakespeare Company presents the Traveling Troupe, the new community outreach arm of our organization. This troupe is an extension of our professional company that will present a one-hour performance of Shakespeare's Macbeth in multiple venues throughout...
Monday, April 16th, 2018
Indianapolis Early Music (IEM) is America's oldest continuous presenter of Early Music. Originally known by its corporate name of Festival Music Society, it was established in 1966.  Contributing to the arts and culture available in Indianapolis, IEM ...