Friday, April 14th, 2017
Join Recycle Force for the MK Electronics Recycling Event Use this opportunity to clean out your basement, garage, closets or attic and responsibly recycle your old electronics and appliances. If it has a cord or a battery, we will recycle it! Saturday, April 29, 2017 10am – 1pm Northwood Christian Church 4550 Central Avenue A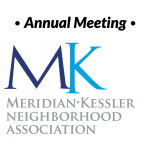 Sunday, April 9th, 2017
Annual Meridian~Kessler Neighborhood Association — All Neighborhood Meeting Thursday, April 27 at 6:00pm; Northwood Christian Church (4550 Central Ave.) Refreshments and pizza from BeBop Pizza Kitchen will be served at 6pm and the meeting commences at 6:30pm. The...
Monday, March 20th, 2017
2017 Meridian-Kessler Home Tour  Don't miss the largest and longest running tour of vintage homes in Indiana. Friday, June 2nd• Twilight Tour & Party  Saturday & Sunday, June 3rd – 4th • Day Tour    Find full event details...